The New Year bubbles with opportunities, but what do you do with leftover insecurities?

One of my favorite comfort foods is fried rice.
If you've never made this Asian fave, think of it as pasta for Chinese people. It's versatile. You can whip it up in a skillet, pan, wok, or whatever. The key is sauteing each ingredient separately and then combining it all at the end.
One advantage that fried rice has over it's Italian cousin may be this — the ingredients that make up the best fried rice are leftovers: day old rice, frozen veges and diced sausage.
Nothing is wasted. Stuff usually considered second class citizens in your fridge are thrown together to conduct a symphony that makes your taste buds sing.
At a time when everyone is busy cooking up their new year resolutions, I'm opening up my soul and I find leftovers.
I'm excited about this new chapter in my life, but those fragments of failed attempts, insecurities and old thought patterns seem to clutter up the pages.
What can I do?
A Story
I don't have a 10 step plan to share with you, but I can offer you a story that somehow answered my heart's query.
(To be continued…)
~~~~~~~~~~~~~~~~~
…To read the rest of the story – click here and jump over to DaySpring's (In)Courage website, where today's post is published.
It makes a difference having you with me, when I barista away from here.
Share a comment at (In)Courage – I'd appreciate your company there!
~~~~~~~~~~~~~~~~~
** SPECIAL LISA LEONARD GIVEAWAY **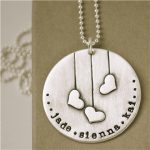 By Sunday 1/23/10 Midnight:
Remember I'm hosting a special Lisa Leonard Jewelry Giveaway to encourage us for the new year — a $50 Gift Certificate. Click here to jump to the post — Enter to Win!
~~~~~~~~~~~~~~~~~

*Join the Jam Tomorrow: Thurs 1/20/11*
Share your Faith Fresh discoveries! Topic: Is Joy Easy or Hard For You? Serve it up any way you'd like. Just keep it real! Link up or simply comment at the end of Thursday's post.
Not a subscriber? Get Faith Barista directly sent to you! Subscribe now via email (click here) or RSS (click here).
Photo courtesy of Photobucket.