I have been hungry for a long time.
Soul hungry.
I've longed for the cool mist of light spring rain, but I've been wandering in the desert.
The desert of my soul.
I haven't forgotten the memories of my youth, where the sun kissed summer into my hair as I lay lazy on the quiet river of yesteryears.
But I've wondered, could the girl with stars in her eyes ever come back to me?
Because that little girl grew up.
She discovered with each loss she sustained, she felt stronger when she didn't look up at the stars.  
She laid awake in her bed instead many nights, unable to sleep, trying to soothe her heart by hiding her dreams and covering her need.
She was doing it all, yet something inside felt unsettled.
But she never said anything. She wouldn't want anyone to misunderstand and think she was ungrateful.
She didn't want to need comfort. Because maybe doing so would make her want it more and well, that would make life more complicated. She would have to make hard changes that would leave too many broken pieces in her story.
And she didn't want that.
She wanted to fit in with all the happy, unbroken people in the world.
The truth is she didn't believe God could use anything she thought was weak. Or broken.
The truth is I didn't believe God could shine his light through me weak and broken.
Because if I really did believe such a thing, I'd have to speak in my broken and weak voice.
And I definitely did not want that.
A Piece of Herself
The little girl in me didn't know it, but every moment she stopped risking and chose safety instead, she quietly lost a piece of herself.
Every time she swept away the tears from her voice, she seemed to speak more boldly.
But the truth is, the intimacy she once nurtured with God flickered into a dimming memory.
She knew Jesus loved her — but she forgot what it felt like to be loved. As is.
Her heart was tender toward others — but she forgot what the tenderness of God felt like against the skin of her soul.
She lost her spark.
Becoming Beloved
The little girl in me tried to recapture that spark by working harder, smarter, becoming better at doing life.
She tried to recapture it by being happy for others.
She became an expert at spectating life, rather than experiencing it fresh for herself.
And she felt selfish and guilty whenever she longed to sparkle again.
She didn't understand those criticizing voices were lies from the past, who taught her that becoming beloved was only a truth to accept instead of an experience to boldly and wildly receive.
God loved me too much to allow me to hide my heart anymore.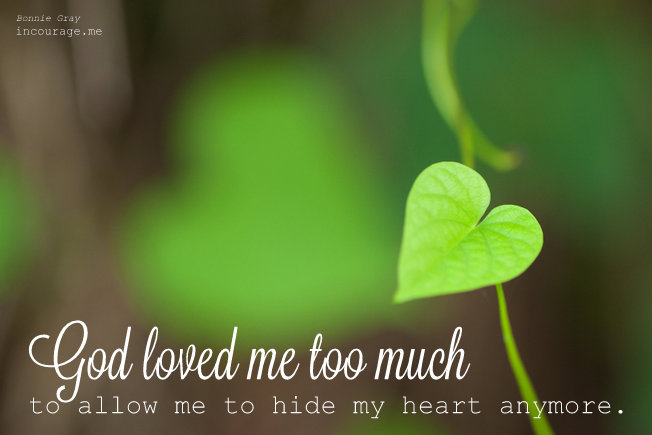 He brought me into a deeper journey of intimacy with Him…
To be continued…
To Read The Rest Of the Story
…To read the rest of the story "Sparkle Again: When The Stars Fall Down" – click here to join me over at DaySpring's (in)courage site, where today's post is published.
Take a virtual coffee break together. I'd love to be with you there.
{Photo credit: hand-lettered art by emdashpaperco.
leaf photo by vinothchandar.}